Start Date
Tuesday, January 17, 2023
End Date
Wednesday, January 18, 2023
Location
Omni Rancho Las Palmas, Palm Springs, CA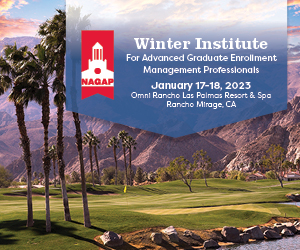 NAGAP's Winter Professional Development Institute for Advanced GEM Professionals focuses on advanced topics and are specifically designed for graduate admissions and enrollment management professionals with five or more years of experience. The sessions are offered in settings that promote discussion and interaction among all participants.
Registration Options:
Non-member
$950


Hotel Information


Make your reservations at the special NAGAP rate of $225

plus a $35 resort fee

no later than

December 26

. Click

RESERVE NOW

to get started.





The Omni Rancho Las Palmas Resort is home to the NAGAP Winter Professional Development Institute

Enjoy a relaxing oasis with a backdrop of mountains and palm trees at Omni Rancho Las Palmas Resort & Spa in Rancho Mirage, California. Just a few miles from Palm Springs, our resort offers an ideal escape in the Coachella Valley. Revel in timeless comforts, classic conveniences and modern technologies that have made our luxury resort a desired destination for a sun-drenched getaway.

Let the relaxed desert lifestyle transcend the hustles and bustles of life the second you step foot into the luxurious rooms and suites of our resort hotel in Rancho Mirage, CA, located between Palm Springs and Palm Desert. Unwind in one of 444 well-appointed guest rooms or 22 luxury suites that offer an oasis in the California desert with vibrant pops of color in Spanish Colonial-inspired style. Premium king and queen beds topped with crisp white cotton-rich linens will lull you into a peaceful night's sleep in the comfort and elegance you deserve during your stay at our Palm Springs resort. All of our hotel rooms have French doors that open to furnished private patios or balconies with breathtaking views of our luscious grounds and the San Jacinto and San Bernardino Mountains.

Take Virtual Tour:  Welcome to Omni Rancho Las Palmas Resort & Spa

ROOM & SUITE FEATURES

Luxurious linens

Newspaper delivery

Coffeemaker

Safe

Hair dryer

Iron and ironing board

Furnished patio





IN-ROOM TECHNOLOGY

Individual climate control

In-room movies
DAY 1 — Tuesday, January 17
8 a.m. – 8:30 a.m. - Registration & Breakfast
8:45 a.m. – 10:15 a.m. - TBA

10:30 a.m. – 12 p.m. - Current Legal Issues and Trends in Higher Education
Speaker: Carrie Ryan Gallia, Senior Associate General Counsel, University of Minnesota
Session Abstract:
12 p.m. – 1 p.m. - Networking Lunch
1 p.m. – 2:30 p.m. - TBA

2:45 pm – 4:15 p.m. - Latest Insights from Graduate Enrollment Professionals: Top Workplace Challenges and Opportunities
Speakers: Keith Ramsdell, Vice President for Enrollment Management and Marketing, Ashland University; Donald Resnick; Pam Royall, EAB
Session Abstract: This dynamic moderated panel discussion gives conference participants a first look at new research findings drawing upon data provided by hundreds of graduate and professional school enrollment professionals—many from NAGAP's membership. We will share results from the latest flash polls conducted jointly by NAGAP and EAB, where we focused on key issues in enrollment management including current workplace and enrollment challenges. The discussion will focus on your top priorities by sharing data on the topics you and your peers indicated are of greatest interest to graduate enrollment professionals at this time.
5:00 p.m. – 6:30 p.m. - Reception
Dinner on your own
DAY 2 — Wednesday, January 18
8:30 a.m. – 9 a.m. - Registration & Breakfast
9 a.m. – 10:30 a.m. - TBA

10:45 a.m. – 12:15 p.m. - Research, models, and strategies to start Strategic Graduate Enrollment Management (SGEM) Plans
Speakers: Amanda Ostreko, Assistant Vice Provost and Director of Graduate Enrollment Management, The University of Kansas; Ariana Balayan, Assistant Dean, Admissions, Recruiting, and Enrollment Management, Morningside Graduate School of Biomedical Sciences, University of Massachusetts Chan Medical School
Session Abstract: There is limited empirical research on GEM models, and the presenters will discuss the current efforts underway from NAGAP's Research Committee to update research on the GEM model of integrated interdependence. Presenters will share their initial experiences with Strategic Graduate Enrollment Management (SGEM) planning and how they started the process by using research available on GEM models and resources from organizations that support GEM planning. The session will wrap up with a roundtable discussion to share strategies and advice from their institutions on SGEM planning, and attendees will receive SGEM planning resources prior to the session to aid in the discussion
12:15 p.m. – 1:15 p.m. - Networking Lunch with Advanced GEM Track
1:15 p.m. – 2:45 p.m. - TBA

All
Chapter Events
Conferences
Webinars
PDIs