Start Date
November 6, 2023
End Date
November 10, 2023
NAGAP's Fall Virtual Professional Development Institute provides a weeklong series of presentations for professionals of all kinds that focuses on a theme or hot topic within the graduate enrollment management world.
This year's event will be focused on harnessing technology. See detailed schedule of sessions below.
Registration
Registration is opening soon and the cost will include the full week of sessions and access to the recordings. Check this page for updates.
Schedule
Monday, November 6:
Coming soon!
---
Tuesday, November 7 at 1pm ET: Small Team, Big Results: AI & Prompt Engineering to Supercharge Your Graduate Enrollment Marketing
Got a small grad enrollment team? No problem. AI's your game-changer, and this 60-minute session is your playbook. Learn how to use AI to make your team punch above its weight and fill those grad seats like never before. Discover how AI, done right, can change the game in recruiting and keeping grad students.
What you'll walk away with:

Mastery in formulating ChatGPT prompts optimized for graduate student recruitment

An understanding of how AI integrates into marketing and student engagement strategies

Hands-on experience in crafting prompts tailored to real-world enrollment scenarios
Don't miss this opportunity to refine your graduate enrollment approach through cutting-edge AI technology and fully leverage the capabilities of ChatGPT in your institution.
About the presenter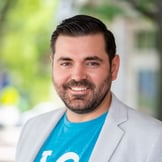 Ardis Kadiu is the Founder and CEO of Element451, a cutting-edge admissions marketing and CRM platform that emerged from his drive to innovate. He's a firm advocate for the game-changing impact of AI and top-notch design, viewing them as the cornerstones of great user experiences.
He's not just talking the talk. He's taught it. Ardis served as an instructor at New York University, where he taught courses relevant to the digital age, such as user experience design and web and mobile development.
But let's get to the juicy part: AI. He's invested a big chunk of his career in crafting and directing the build of advanced personalization engines and AI-powered features for Element451. This isn't theoretical stuff; it's hands-on work that has deepened his grasp of what AI can really do, especially in marketing. Conferences? Webinars? He's been there, done that. Ardis has imparted his wisdom on AI, Generative AI (GenAI), ChatGPT, and personalized marketing at multiple industry events. He's also led practical chatGPT sessions that show off how GenAI can be a marketing and enrollment game-changer. Oh, and if you're into podcasts, check out his series on GenAI. It's his audio playground to dig into these subjects and reach even more people.
---
Wednesday, November 8 at 12pm ET: Choosing the Right CRM for Your Graduate/Professional School Admissions
Customer Relationship Management (CRM) systems have become an essential and powerful tool for higher education institutions, particularly in the realm of graduate and professional school admissions. Join Bart Caylor, a leading expert in higher education marketing, as he delves into the world of CRM and its importance in streamlining and enhancing your institution's enrollment processes.

In this interactive session, Bart will cover:
A brief introduction to CRM systems and their growing prevalence in higher education
The importance of considering a CRM for your graduate/professional school admissions and the key stakeholders who should be involved in the decision-making process
Crucial factors to consider when choosing a CRM including: functionalities, staffing resources, and integration capabilities with existing systems
Insights on evaluating your existing CRM and determining if it's time to switch to a new one
This talk is designed to provide valuable insights for both institutions considering their first CRM and those looking to review or replace their existing CRM. With a focus on graduate and professional school admissions, Bart will share his expertise and provide you resources in making the best CRM decision for your institution. Don't miss this opportunity to learn how to optimize your enrollment processes and enhance your institution's overall marketing and communications strategy.
About the presenter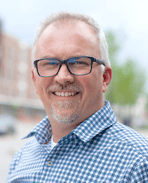 As a first generation college-student, Bart Caylor has developed a passion for education with first-hand experience of how it can change the course of lives. With nearly 35 years in design and marketing, including websites from 1994 and one of the first higher education websites in 1998, Bart has worked with global brands such as AT&T, IAMs Pet Food, Motorola, RCA, and GE. He has also worked with leading nonprofits such as the American Bible Society, Lumina Foundation for Education, and numerous colleges and universities of all sizes. Caylor Solutions was created in 2011 to combine the best practices of his corporate, non-profit, and education experience specifically for higher education clients. He currently serves as a Senior Fellow for ABHE. Bart lives in Fishers, Indiana with his wife. His children range from high school students to college graduates. Bart continues to stay ahead of the curve for the future of marketing to consult and deliver solutions in both print and digital for his clients.
---
Thursday, November 9 at 1pm ET: Lights, Camera, Enrollment! Creating and Leveraging Video for Student Recruitment


Back by popular demand! If creating a recruitment video sounds scary or impossible, then this session is for you. You will leave this interactive session with a specific plan to implement a video for recruitment at your institution and a list of free and low-cost resources to get you started. Data shows that video is an effective tool to attract, engage, and convert students at all stages of the admissions journey. You can also use video to make YOUR job easier. (And who doesn't want that?) This beginner's guide session will provide data that demonstrates video is worth the effort, with explicit strategies for how to effectively use video at your institution, whether you have $0 or $100,000, a computer, iPhone or a professional grade camera, a little or a lot of time. While most examples will be recruitment-focused, this session is also relevant to any professional who wishes to incorporate video into their communication plan, whether it be to engage current students, alumni, donors, or other stakeholders. Get ready to get creative!
About the presenter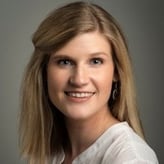 Lauren McGowan has served as the Director of Recruitment and Admissions for the University at Buffalo School of Social Work for over seven years. She previously worked for the UB School of Nursing as a Graduate Recruitment Coordinator and for D'Youville College as an Undergraduate Admissions Counselor. She has a master's degree in higher education administration from Buffalo State University and has been working in enrollment management since she graduated in 2012. Lauren received NAGAP's Visionary Award at the 2023 Summit and serves as a co-host for the NAGAP Report Podcast. In 2019, she received a NAGAP Winter PDI Fellowship and the National Deans and Directors of Social Work Admissions Rookie of the Year Award. Lauren's avocations include performing in plays and musicals and singing in a band, so she is used to being onstage. Her performance skills and creativity aid her in creating engaging and effective videos that positively impact recruitment and enrollment for the UB School of Social Work. She is not a video production expert, just a lifelong learner, and if she can learn this, you can too.
---
Friday, November 10 at 1pm ET: Analytics - From Interesting to Actionable In Graduate Enrollment

Each of us are starting at a different rung of the analytics ladder. In this presentation, we'll go through each stage, identifying opportunities to turn data into action. Whether you're just at "interesting" or looking for opportunities to enhance individual student engagement metrics, this session will outline best practices on taking the next step up.
About the presenter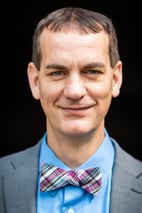 Teege Mettille's admissions career started as a territory manager at Lawrence University, where he specialized in communications and social media. He then spent six years as Director and then Dean of Admissions and Financial Aid at Northland College. He worked for 2 1/2 years at Carroll University as Vice President for Enrollment, guiding them through a Strategic Enrollment Planning Process before finishing his time on campus as the Dean of Admissions at DePauw University. For the last 18 months, he has served as Director of Enrollment Success at enroll ml, helping college and university admissions leaders leverage the power of an awesome amount of data residing in their CRM.
---